Health >Stroke

Stroke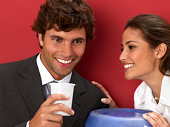 stroke is a sudden interruption in the blood supply of the brain. Most strokes are caused by an abrupt blockage of arteries leading to the brain (ischemic stroke). The buildup of plaque (fatty materials, calcium and scar tissue) is involved in most ischemic strokes – narrowing the arteries that supply blood to the brain, interfering with, or blocking the flow of blood.
Other strokes are caused by bleeding into brain tissue when a blood vessel bursts (hemorrhagic stroke). Because stroke occurs rapidly and requires immediate treatment, stroke is also called a brain attack. When the symptoms of a stroke last only a short time (less than an hour), this is called a transient ischemic attack (TIA) or mini-stroke. Stroke has many consequences.
Warning Signs of Stroke
If you notice one or more of these signs, don't wait. The most common sign of stroke is sudden weakness of the face, arm or leg, most often on one side of the body.
Sudden numbness of the face, arm, or leg, especially on one side of the body.
Sudden confusion, trouble speaking or understanding speech.
Sudden trouble seeing in one or both eyes.
Sudden trouble walking, dizziness, loss of balance or coordination.
Sudden severe headache with no known cause.
Stroke is a medical emergency. Treatment is available, but only if a stroke is recognized in time.
Do following steps to prevent Stroke
Regular checks by your doctor for:
Blood pressure


Cholesterol


High blood pressure and high cholesterol usually respond well to medication taken as prescribed


Diabetes


Control diabetes by following medical advice carefully


Heart beat


Don't smoke.


Stopping smoking is not easy for the dedicated smoker – but it is vital - it is possible to give up cigarettes. Assistance is available.


Reduce your stress


Limit your alcohol intake


Manage your weight


Exercise regularly. Walking is easy –no special equipment, can be done at any time.


Eat a balanced diet, avoid food high in salt and fat


Enjoy work and play.


Follow medical advice faithfully.


Healthy Diet - Special care your brain with a healthy diet ....