Health > Common Health Problems > Headache

Back Pain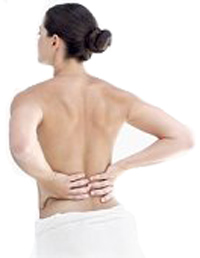 Back pain is the second most common reason for sickness absence from work in the world. Only a common cold causes more missed work. More than sixty percent of adults suffer from back pain every year, and half become chronic sufferers. Back pain can strike anyone at any age, although studies show people are most vulnerable between the ages of 45 and 55.
Back pain is most often the result of poor posture, an injury or over-use, but back pain can also be caused by inflammation and even more serious problems such as progressive diseases affecting bones and joints.
Causes of Back Pain
Muscle strains and ligament sprains are the most common causes of low back pain because these muscles, ligaments work together to provide control and strength for nearly all activities. It can come on suddenly, but can also be due to strain over time rather than the result of overdoing it just once. Usually nothing abnormal shows up in tests such as X-rays, and generally nothing within the back is permanently damaged. Over 90% of patients are completely recovered from an episode of lumbar muscle strain or sprain within one month.
Osteo-Arthritis most commonly affects joints such as the knees and fingers. However, it can affect any joint in the body, including the small joints of the spine. Osteo-Arthritis of the spine can cause back pain with movement.
During pregnancy, the female's body undergoes significant hormonal and physical changes (lower back curve begins to increase slightly as the pelvis tilts backward), often leading to back pain.
Nerve root pain is the cause in less than 5% of people. It is usually caused when a inter-vertebral disc becomes displaced or bulges out from its normal position, putting pressure on the nerve root. This is called a slipped disc or herniated disc. A herniated or slipped disc occurs when an inter-vertebral disc in the spine bulges out from between vertebrae, pressing against the spinal nerves. This causes the space for the nerve to be diminished, the nerve may become trapped and pinched, thus irritation of the nerve results. Most disc problems arise from injury.
Home remedies for backpain
*Two or three cloves should be taken every morning to get result
*Lemon is another useful remedy for backache. The juice of one lemon should be mixed with common salt and taken by the patient twice daily. It will give relief.
*The diet of backpain patients should consist of a salad of raw vegetables such as tomato, carrot, cabbage, cucumber, radish, lettuce, and, at least two steamed or lightly cooked vegetables such as cauliflower, cabbage, carrot, and plenty of fruits, except bananas. Fruit and milk are advised for breakfast, steamed vegetables and wholewheat chapatis for lunch; fresh fruit or fruit juice in the evening.