Health > Meditation >How to Meditate

How to Meditate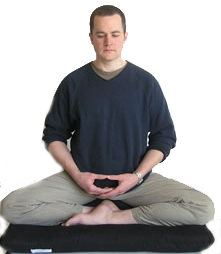 Meditation is both simple and complex. It's like defining the color orange: When you see it you know it. Similarly, the experience of meditation is best, well…experienced. In an article in New View magazine, Shippensburg University's Dr. C. George Boeree describes the basics of Buddhist meditation.
Many people discover it quickly becomes more essential and helpful than a good breakfast or 'the first cup of coffee' in the morning. In the evening, it can be a good way to stop the worries of the day and go to sleep in a comfortable state of mind. People who have problems getting to sleep may discover that with an evening meditation just before going to bed, the mind becomes much calmer and getting to sleep is no problem anymore.
Before starting meditation, ideally we need to take care of a few things:
a quiet place (using music is nice for relaxing, but not really meditation), switching off the phone will help.
make sure you are not too tired, early morning is generally said to be the best time.
sit comfortable; most people like a cushion under their behind, the room is best not too warm or cold.
wear loose, comfortable clothing.
try to create continuity in time and place to become habituated to the circumstances of meditation.
The hands are loose and open with the palms up, one atop the other and thumbs lightly touching.
Head is upright. Eyes may be closed or open. If open they should focus on your hands or a spot nearby.
Beginning meditators should count upwards to ten on each exhale. Breathe in a relaxed and natural way. Then begin again at one and repeat. Continue to breathe naturally.