Health > Keeping Fit > Eating Boiled Vegetables

EATING BOILED VEGETABLES IS ONE GOOD WAY-TRY THIS FORMULA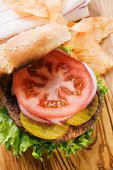 Eating boiled vegetables is one good way of filling your stomach with a lot of fiber so that you don't get hunger pangs. This helps you to reduce your food intake and hence calories.
GET INTO SHAPE
TRY THIS WONDERFUL EXERCISE
If someone is asked why he/she does not exercise, the standard reply is "Where is the time?" The usual routine is getting up at 7 a.m. going to office at 8.30 a.m. coming back late at night, having dinner, watching TV and going to sleep. Again the next day the same routine is followed.
HIGHLIGHTS OF CLIMBING STAIRS
One does not have to spare time specially for exercise.
One gets an easy opportunity to exercise many times during the day. It requires no special equipment.
No jogging suits or special shoes.
It gives the same benefits as any other exercise if done regularly without investing additional time.
Caution : Those who are already heart patients and suffer from anginal chest pain should not climb stairs without medical advice